3rd Annual Drifter Fest In Charleston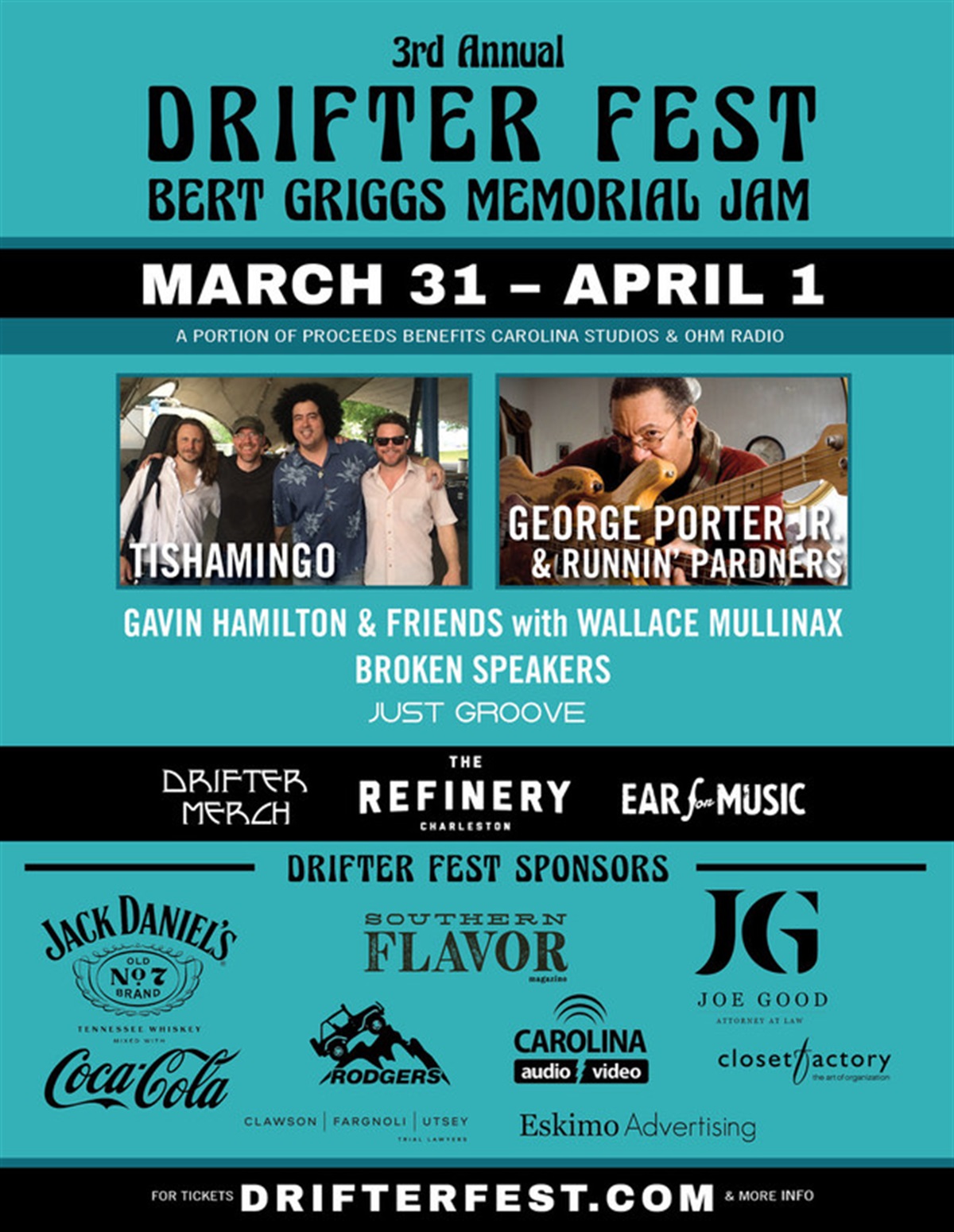 The 3rd Annual Drifter Fest: Bert Griggs Memorial Jam will be held on Friday, March 31st from 6pm-11pm and Saturday, April 1st from 7pm-11pm at the Refinery Amphitheater in Downtown Charleston. Headliners for the live music event will be legendary bassist George Porter and his band the Runnin' Pardners along with Southern rock band Tishamingo reuniting for a special performance. Supporting acts include Gavin Hamilton and Friends featuring Wallace Mullinax, Broken Speakers and Just Groove.
A portion of proceeds will benefit Carolina Studios and OHM Radio. Led by Hootie & the Blowfish's Mark Bryan, the non-profit organization fosters creative, educational & career-focused initiatives for students through music, technology & media arts. 96.3 FM Ohm Radio provides non-commercial, locally-produced programming, dedicated to serving Charleston with a wide range of community perspectives and really good music.
Presented by Drifter Merch, Ear for Music and The Refinery in partnership with local businesses, sponsors include Jack and Coke Ready-to-Drink Cocktail, Lunar Light Botanicals, Southern Flavor Magazine, Attorney Joe Good, Rodgers Wranglers, Eskimo Advertising, Carolina Audio Video, Closet Factory, Trial Attorneys Clawson Fargnoli & Utsey and MarkaBull. Providing a true festival experience, the event will have craft vendors such as Drifter Merch, Zinnialou Jewelry, GrillKilt, SunHeist Eyewear, Honey Creek Pottery and Sophie Kate Candles. Additionally, local favorite Home Team BBQ, the new Cleats restaurant and King of Pops will be on site.
One day general admission tickets are available for $20 in advance and $25 on the day of the event. Weekend passes for GA are $35 ADV, $40 DOS. VIP is sold out. Tickets are on sale now at drifterfest.com.
Drifter Fest celebrates the life of the late Bert Griggs. A huge fan of live music, he turned his passion into a well received apparel and accessories company, Drifter Merch, that was inspired by his favorite bands. Additionally, Bert was an amazing father, husband, son, brother, and friend. He had an innate ability to make everyone he met feel like they were the most important person in the room. Bert never met a stranger. In fact, he was everyone's best friend. He had the sweetest soul and a tender heart that loved hard and deeply. Bert had a unique sense of humor with an infectious laugh and smile that could light up the darkest room.