Johnny K's Best Metal of 2021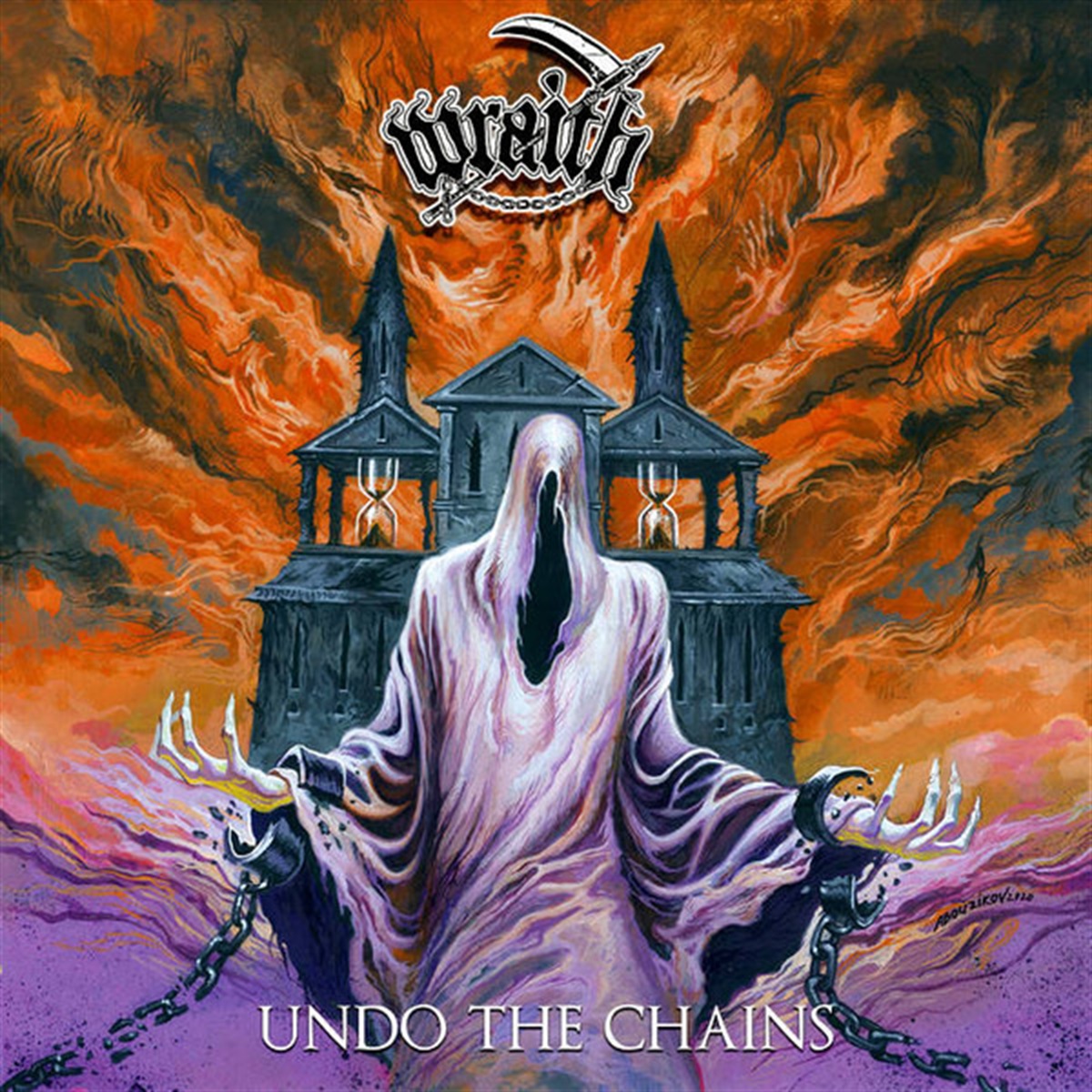 1-a.) Wraith – Undo the Chains
Blistering black-speed-thrash-whatever-the-heck from Indiana. I love it. On this follow-up to 2019's fantastic Absolute Power, Wraith employ the best parts of the New Wave of Whatever throughout the entirety of this latest offering. The breakneck opening riffs of "Mistress of the Void" will have you reaching for your seatbelt. The percussive dive-bomb stomp of "Cloaked in Black"'s first minute healed just a tiny fragment of the Texas-sized hole the passing of Power Trip's Riley Gale left in our hearts last year. That's enough for me to put Undo the Chains in the double-top-spot. (Plus, if you look hard enough, you'll find yours truly in the collage of pics in the album's gatefold. I mean, come on!). They call themselves "NO BULLSHIT THRASH METAL", and that about sums it up.
https://wraith219.bandcamp.com/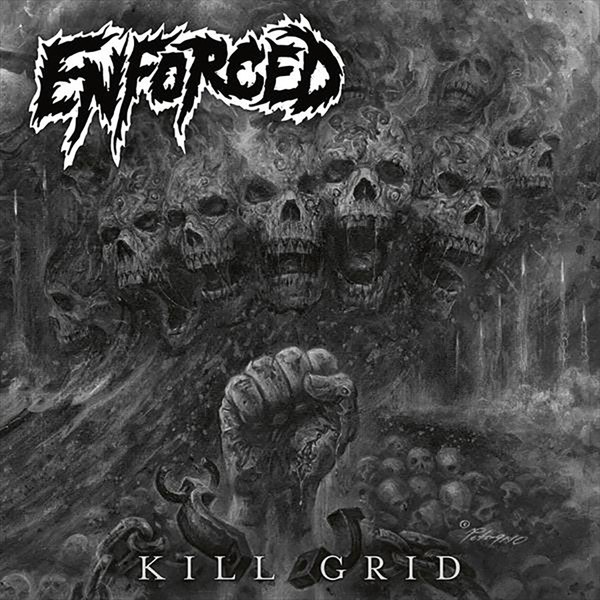 1-B.) Enforced – Kill Grid
Hailing from Richmond, VA, vocalist Knox Colby and company turned in the most ferocious slab of crossover thrash you could ever ask for this year. Bombastic and crushing in every way. Kill Grid is the follow up to their superb At the Walls (July, 2019). Mixed by the almighty Arthur Rizk, Kill Grid contains all the elements one might need to knock dinner onto the floor and flip over the kitchen table. It's equally suited for clearing a smoldering enemy village or practicing Taekwondo in the pit. Ferocious on all fronts.
https://enforced.bandcamp.com/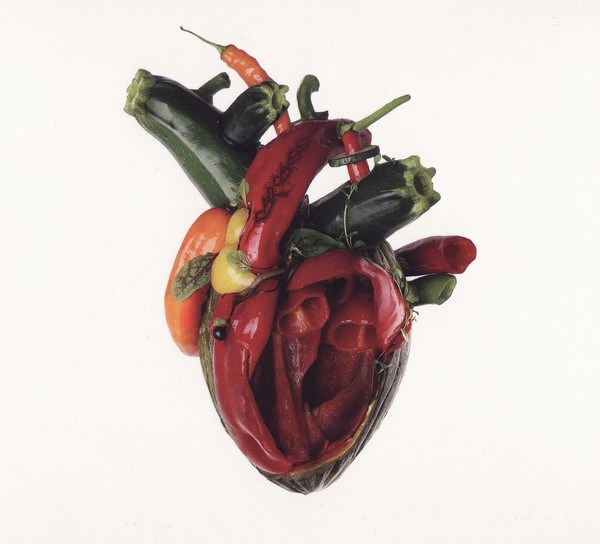 3.) Carcass – Torn Arteries
The titans of the pathology lab have done it again. Fantastic death metal with a surprising variety of grooves for a band that's been doing this for 40 years. Torn Arteries features an impressive amalgam of stylistic elements that could only be pulled off by a band with a history as storied as Carcass'. There's a nod to their goregrind beginnings, plenty of Bill Steer's intricate guitar mastery, Jeff Walker's guttural-but-informed vocals, all blended into a masterfully concocted stew with all the myriad Carcass flavors.
https://carcass.bandcamp.com/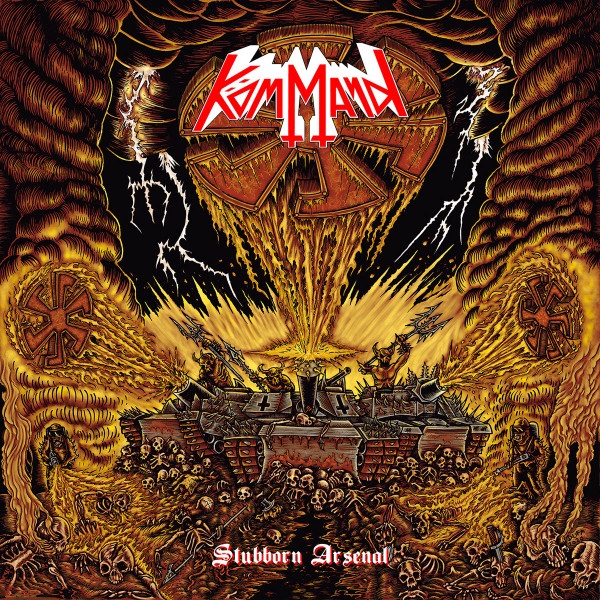 4.) Kommand – Stubborn Arsenal
A late entry on my list, thanks to a hint from IMG's own Sean Knight. Blackened thrash that's so good, and so firmly planted in my wheelhouse, that it bumped more than half my list down a spot upon first listen. Crazy speed guitar, rollicking Motorhead-like low end, and filthy demented warlock vocals make Stubborn Arsenal one of the crustiest releases of 2021. It's their third full-length, but entirely new to me. It's rare to have an album rip through my top-10 in late December and shred it to pieces, but this one did just that, leaving the place totally disheveled and gasping for air.
https://metalonmetalrecords.bandcamp.com/album/k-mmand-stubborn-arsenal
5.) Evile – Hell Unleashed
Stellar return to form for these thrash masters, after 8 years of no new releases. Vocalist/lead guitarist O.L. Drake pulls off an impressive feat, replacing his brother Matt on vocals. The fastest songs on this album will break your furniture, even if it didn't come from IKEA. Many long-time fans of the band were a bit skeptical they could pull off such a sea change, but Evile did it with great aplomb (current-day Metallica only wishes…). Every song is Fort Knox-tight thrash mastery. The closing title track will leave any fan of the band stunned and mute with appreciation.
https://evile.bandcamp.com/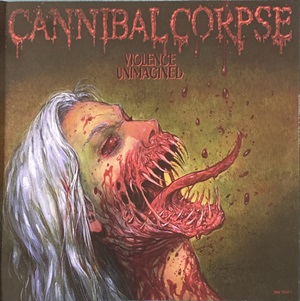 6.) Cannibal Corpse – Violence Unimagined
Consistent. Brutal. Awesome. Violence Unimagined is Cannibal Corpse's 15th(!) album. Corpsegrinder is at his murderous, maniacal best on vocals. Throw in long-time producer Erik Rutan as a full-time guitarist and you've got one of the best late-era albums of CC's career. One reviewer described CC on this album as "like the death metal Rolling Stones: iconic, verging on cartoonish, but always reliable," I took this as complimentary, and I happen to agree. 2021 was a banner year for veteran metal bands and upstarts alike. Metal magic here from the vaunted death dealers.
https://cannibalcorpse.bandcamp.com/album/violence-unimagined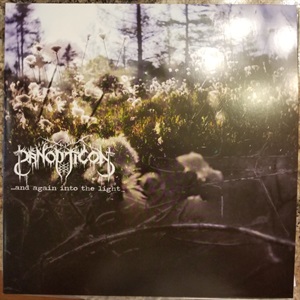 7.) Panopticon – …And Again Into the Light
First, another disclaimer: Panopticon mastermind Austin Lunn is my (insanely talented) first cousin. He literally used to pepper me with questions about different bands as a precocious 12-year-old ("Yes, Austin, the Smashing Pumpkins still totally suck.") Now, nepotism aside, …And Again Into the Light is a freaking awesome album. Unique, beautiful, innovative music. What Austin has created is rare in the world of metal – something that derives from both everything and nothing, simultaneously. I know first-hand how diverse his musical influences are, but Panopticon is derivative of none of them. All of Panopticon's music comes directly from the soul of a man trying to reconcile the vast well of emotion inside of him with the beauty and fragility of a world that is dying in front of his eyes. I'll let others expound upon the sheer brilliance of the music itself (made all the more considerable by the fact that Austin has always played/sung all of it by himself. That changes a bit on this album with some beautiful guest string work.) Folk Death Metal is one of the sillier monikers that has been applied to music, but it's fairly fitting for Panopticon, and this album will almost certainly be a high-water mark for fans of the genre.
https://thetruepanopticon.bandcamp.com/album/and-again-into-the-light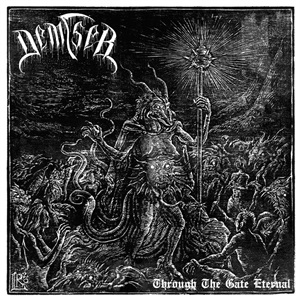 8.) Demiser – Through the Gates Eternal
More rollicking, high-speed dirty black metal/thrash from South Carolina. And another debut album, no less! This chunk of evil goodness makes some of the 80's versions of Satanic Panic bands look like Saturday morning cartoon fare by comparison (and if I'm being honest, it probably should have ranked higher). Remarkably precise riffs, pounding beats, and a throat full of sooty gravel. I'd keep going, but the devil is impatient for blood… Full speed ahead, and let your neck snap in appreciation!
https://borisrecords.bandcamp.com/album/through-the-gate-eternal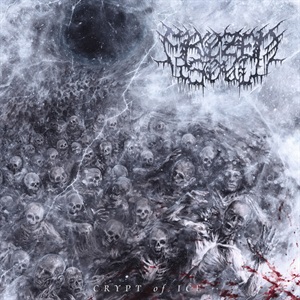 9.) Frozen Soul – Crypt of Ice
The most straight-up death metal album on my list, and a mighty impressive wall of ice it is! Yet another excellent debut, and another monolithic band out of Texas. One has to think the band was going for the sound of a merciless grinding glacier, slowly subsuming the world and isolating it eternally from any warmth or hope. Pretty much nailed it. It's Bolt Thrower on ice, and it crushes.
https://centurymedia.store/dept/frozen-soul?cp=102832_103046_108727
10.) Bushido Code – The Ronin
This killer debut full-length from these veterans of the Pennsylvania scene brings a heavy dose of hardcore experience, but plenty of thrash and death elements, and a cool Samurai-themed epic saga as well. The Ronin is a concept album that tells the story of Da Shi, a Ronin Samurai who has traveled through time, looking for another warrior who can deliver him an honorable death. It follows a couple of excellent similarly-themed e.p.'s. (The Dying Virtues, Vol. 1 and 2).
Like most of this year's top-10 list, Bushido Code bring a rich mix of stylistic elements that seems to be the hallmark of heavy music in 2021.
https://upstaterecords.bandcamp.com/album/bushido-code-the-ronin
Top 3 EPs: A few extra songs, and these would be clawing their way into the Top 10. Graveripper – Radiated Remains – more super-speedy blackened thrash from Indiana. This e.p. evokes a nuclear wasteland brimming with zombies you have no hope of outrunning. Vocalist/guitarist Corey Parks lets the listener know right from the outset of standout track "Atoms Divide", that dying is the only option. How soon is up to the listener. Keegan Hrybyk (guitar), Chris Pilotte (bass), and Jacob Lett (drums) deliver a blistering reminder throughout every song that The Reaper is right on your heels -- but keep running anyway. Closing track "King Killer" boasts melodic guitar work that brings to mind some of the best of Skeletonwitch.
https://graveripper.bandcamp.com/album/radiated-remains
Creeping Death – The Edge of Existence – A rampaging old school nod to Obituary and Bolt Thrower from this Denton, TX outfit (home of the Power Trip boys). Speedy riffs, bestial growls, fast and intense, this short e.p. is a follow up to their excellent 2019 l.p. "Wretched Illusions".
https://creepingdeathtx.bandcamp.com/album/the-edge-of-existence
Gatecreeper – An Unexpected Reality. An offering that lives up to its name, this e.p. dropped out of nowhere on about 12 hours' notice. A two-sided blast of seven short, punky, death metal spasms (think Napalm Death's "Scum"), backed with one 11-minute Cathedral-like doom fest from this Arizona-based crew. Weird AF, but it works!
https://gatecreeper.bandcamp.com/album/an-unexpected-reality
*Disclaimer: Fair warning. I am a huge fan of the "new wave" of thrash/black/death metal. This list is reflective of my personal faves of the year, and is in no way balanced or representative of 2021 metal as a whole. Don't look for Gojira or Mastodon on this list.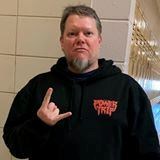 Johnny K
Johnny K was raised in the skateparks and on the beach strip of South Mississippi. He cut his teeth on the punk and metal of the early '80s and continues to fly the flag over the current metal universe. He is a middle school science teacher in Alabama by trade, but still strays into the pit as often as he can.