Backline To Provide Free Yoga And Meditation Services To Music Industry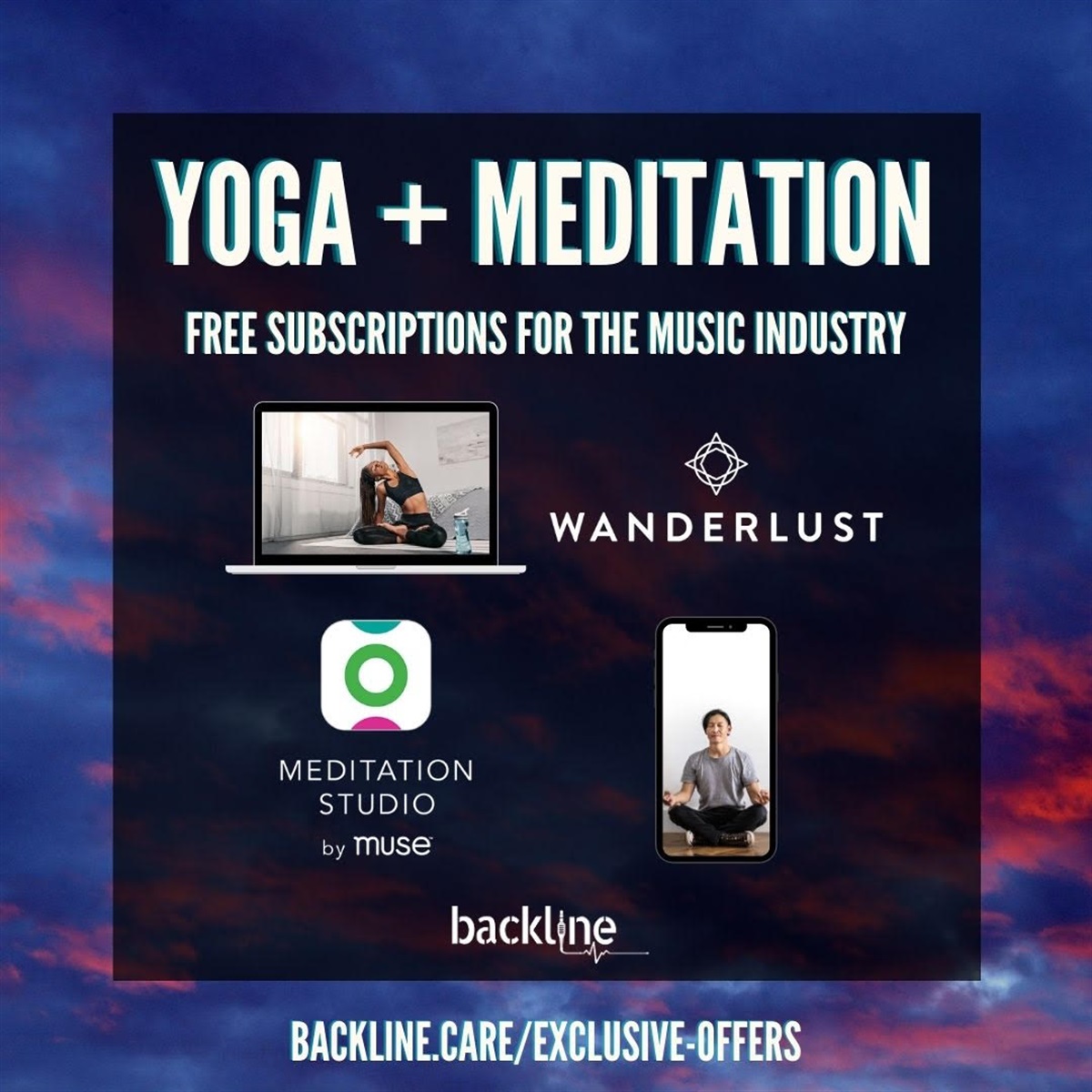 Backline
—the music industry's mental health and wellness resource—has partnered with
Meditation Studio by Muse®
and
Wanderlust
to provide free subscriptions and curated content for the music industry.
Regular routine and wellness practices can drastically improve one's overall mental health—ultimately positioning individuals for a more positive future. This includes meditation, yoga, breathwork, and other modalities that promote wellbeing.
Backline has partnered with these like-minded organizations to make resources more easily accessible to a community that has been drastically affected by the effects of COVID-19. The subscriptions provide free, unlimited access to Wanderlust and Meditation Studio's expansive databases of wellness collections for 6-12 months, respectively, with future discounts available for both.
"We're proud to be a part of the important work that Backline is doing to bring mental health and wellness resources to Music Industry Professionals," said Patricia Karpas, Meditation Studio Co-Founder and Head of Content at Muse. "The Music Industry Setbreak Collection of guided meditations was specifically curated to help musicians and entertainers cope with stress, sleep, motivation, difficult times, adversity and, of course, resilience. We know first-hand how powerful meditation can be a stress-management tool and we're excited to provide much-needed resources to this population."
"Wanderlust has been exploring the intersection of yoga and music since our inception in 2009," expressed Wanderlust CEO Sean Hoess . "Most of our team has been involved in the music industry, even prior to launching Wanderlust, and as fellow members of the events business, we know that COVID is more than an economic crisis, it has also triggered a mental health crisis for artists, staff and crew in the live music business.
It's for that reason that we're so excited to partner with Backline to bring the benefits of yoga and meditation to musicians and their support crew. We are developing custom content for the Backline community with top teachers whose practice and experience overlaps with the live music industry—look for our first collaborations to drop on Wanderlust TV shortly."
The COVID-19 pandemic has brought nearly all live events to a halt, magnifying stress and insecurity on individuals and the industry as a whole. It is Backline's goal to bring purpose to this "pause" and help music industry professionals integrate these important practices into their everyday living before returning back to the strenuous realities of life on the road.
Backline is a national 501(c)(3) nonprofit organization that connects music industry professionals and their families with mental health and wellness resources—streamlining access to a network of trusted organizations and care providers that truly understand this line of work. Contact Kendall Corso (kendall@backline.care) for more information or to get involved.
Wanderlust's mission is to help you find your true north—to cultivate your best self. We do this by gathering experts, practices and ideas to lead your journey towards a healthy and inspired life. We focus on practice, community, awareness, good, and magic. Why magic? Because music, art and dance wash the dust of everyday life from our souls.
Meditation Studio is powered by over 70 leading meditation experts, each of whom has created original, exclusive and engaging guided meditations for you to experience right on your device. Anytime. Anywhere. Meditation won't erase life's challenges, but it makes dealing with them easier. And luckily, modern science agrees with us.