An Interview with The Inspector Cluzo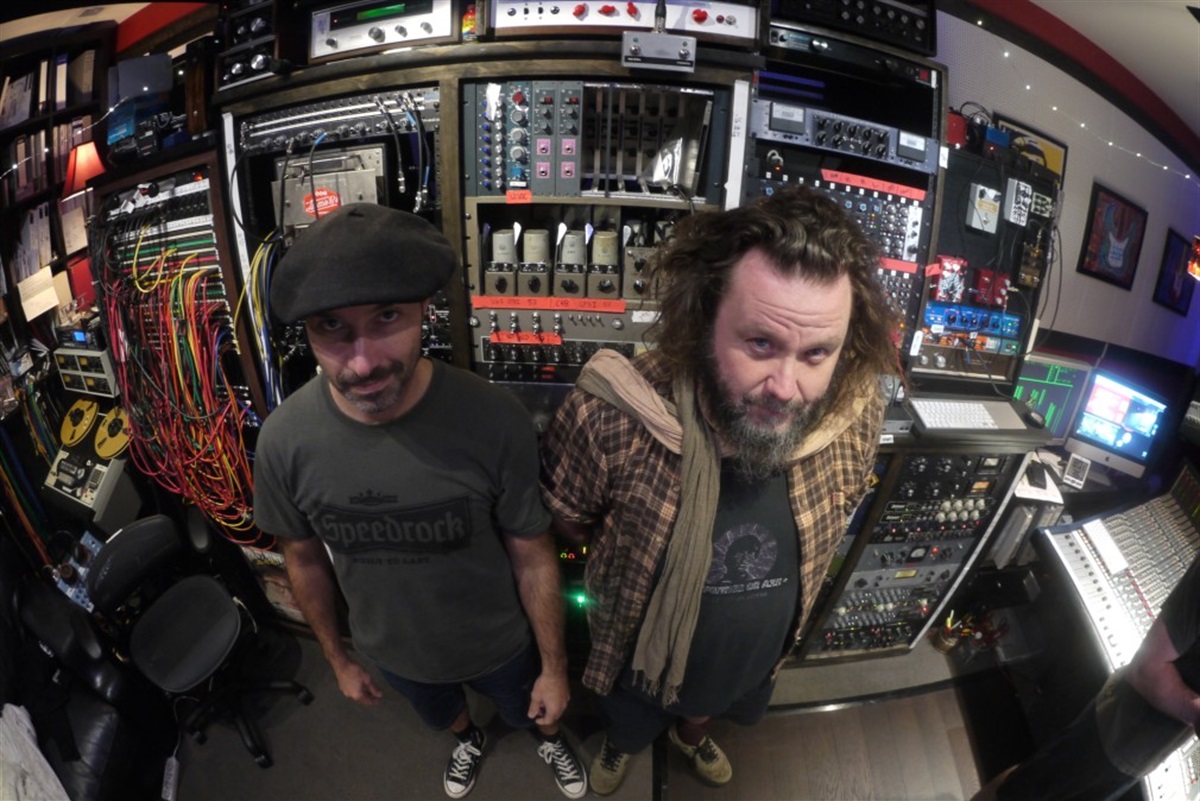 From their own farmland in the South West of France, the two-man group, The Inspector Cluzo, releases their Anniversary album "We The People Of The Soil." Tommy Geilingh, IMG's Global Correspondent, gets the dirt on the band and what makes them unique in a vast musical landscape that has The Inspector Cluzo traveling around the world.
IMG: Enchanté, Laurent Lacrouts and Mathieu Jourdain! Welcome to Independent Music Guide!
TIC: Adishats to all the readers of your magazine! Adishats means HELLO and Goodbye in our born language: GASCON, it is not French, older language, the old language of d'Artagnan and the French musketeers who all came from Gascony. So Adishats to all of you!
IMG: Nice! Well, first of all, I've never seen a two man band create mush pits the way that you two do. I couldn't believe my eyes, actually. And second, congratulations on your new album release, We The People Of The Soil. What a great album and production!
TIC: Well, thanks for both compliments. We have played together now for 26 years! We met in science class in High School (we both did physics studies), Math is an engineer and Laurent has a physics degree. The Inspector Cluzo started 10 years ago, right after our first student band, and we swore to ourselves we won't have more than 2 members after this band, ever! Too complicated. So in fact, our approach is to be a two piece band, not of the fashion aspect of that, but just because we do better and play faster when we ...(keep things simpler). We can't use computers or tracks on stage, so we must play ALL this live on stage with just our 4 hands. That is something we swear to keep to ourselves.
After 1000 gigs, and 65 countries visited so far, it creates this live magma, and yes most of the time, there are mosh pits in front of us, whereas we don't ask audience to do that. Don't know why...we create this in people everywhere...like in Japan at Fuji rock the first time...japanese that are usually so kind, exploded in a huge mosh pit...Fuji rock promoters where really surprised about that...but honestly, we don't know why ...energy of the soil? maybe..and we release this 10th anniversary LP called " WE THE PEOPLE OF THE SOIL"' produced by our big friend and fan, the four Grammy Awards winner Vance Powell (Jack White, Raconteurs, Stapleton). We did it in Nashville - fast and furious recording on tapes in 11 days.
IMG: Yeah, the Live in Fuji, Japan footage is 100% rocking. You can feel that soil mix with the soul. The energy of the Sun and Moon create pure fire on and off that stage. How are you guys doing now and where in the world are you at the moment?
TIC: We're back at our farm in Gascony , where we live: a small village of 350 people called Eyres Moncubes closed to Mont de Marsan. It is a 300 year old farm. Some American friends that used to come always said "it is as old as our country"! Ahhaha the farm is called LOU CASSE. It means "The Oak" in Gascon language...8,6 ha...old organic farming process. We're organic professional farmers aside from the music. So, NOW we're planting organic corn (our own seeds), working on our vegetable garden, cause we feed ourselves and don't buy anything from the supermarket. That is part of our conviction, being self sufficient and to be a free man/woman. Also important is acting local to think globally. We do everything by ourselves. Management, label, publishing, booking, and we don't have any corporation behind us. We only invest the money we earn ourselves. This is why we never signed on a huge major label that would finance us. Nothing AGAINST it, but we're not a punk band in that way. We just don't think it is in the future for us to do so. "Create richness where you are" is what we try to do .
This year, WE THE PEOPLE OF THE SOIL LP travelled the world, and we toured the beautiful Americas with Clutch this winter and with EELS during the spring. We played more than 108 gigs including Lollapalooza. We also had dates in Chile, Brazil, Costa Rica, Panama, Peru, and even Uruguay. So, we were really not at the farm, and now we have so much work to do here. Laurent's wife and our neighbor helped and handled things, but now we need to get back to real work :) !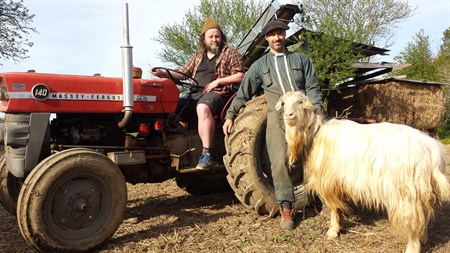 IMG: I'm sure working with earth as much as you do that it feels great to be "grounded" again when you get home. You said you didn't record this album in your own studio? Is your studio on your farm?
TIC: This one was recorded in Nashville at Sputnik Sound. Vance Powerll (mentioned above) mixed the last one: "Rockfarmers" that we recorded in another studio. We met him on album and decided all together that the next one, the 10th anniversary LP, would be entirely handled by him (the takes, the mixing and producing) in Nashville. This is the first time we did not produce ourselves. We're kind of freak control guys. But, this guy is so talented, and the sound he is doing is exactly the sound we love. He is doing a real rock sound...from the ground, from the roots..from his heart & soul. This is not pasteurized rock sound, this is real rock sound. Besides he is a friend, and one of the people we love the most in that weird world of music industry. We share the same values. He loved our heart and soul, gascon spirit, and our fast and furious way of playing.. Things are simple between us. The first time we met him, we were really impressed because he is one of the top rock producers in the world, whereas we're only a French DIY band. But, he chose us. So, that means something.
We recorded on 8 track tape, a fast and furious process in his studio, and it was mixed and finished within 11 days. In our farm and small studio, we have an old Sony MCI analog desk from 79 where we did all our other recordings. It was always mixed elsewhere (except Gasconha Rocks), because we always wanted a pair of fresh eyes to look it over. Our Belgium friend Stephan Kraemer worked on our first ones.
IMG: You mention your ROCKFARMERS Documentary. (For those that have not seen that yet, it's a Must See and is available on Youtube.) You travel the world a lot. Where do you get your influences and inspirations from?
TIC: Amongst the 65 countries mentioned earlier are Madagascar, Peru, Uruguay, India, Taiwan, Philippines, South Africa etc.. We love exploring. We're really curious about things which are different than from what we know. We always consider that diversity is the richness of humanity. Guess Gascons are like this, we like exploring. So many of our ancestors travelled the world, and some are in US like Cadillac in Louisianne too as well as in South America in Patagonia (the gascon beret of the gauchos is coming from that ) etc.. We work really hard at the farm, that the soil feeds us in different ways - Food, and the Soul too. Then you can find us playing our acoustic guitars on the porch, writing songs. The song is a direct result of touring that many countries and finally settling down on our farm. It allows us to focus again in peace. We can say that our inspirations are from the Soil, Mother Nature, from brave people that don't know they are outstanding - like in the song " A MAN OUTSTANDING IN HIS FIELD" and mostly from what we do everyday: acting local to think global.
IMG: You have a lot of different styles going through your music. Who are currently some of your musical influences out there?
TIC: Well, would say now that we're playing like a US band, but our songwriting is European in a sense where we can include different changing parts in the same song. Our first inspiration is US music, - blues, folk, funk, rock, r&b, but we don't want to be a copy. You have the originals, and it makes no sense to try to imitate you guys. We just try to add our uniqueness due to our experience as travelers. Our gascon spirit seems to speak to the US codes: Rock is an uppercut in your face first :) !!! Vance always said " you' re a blues rock band from another continent, but it's blues rock for sure." We like this definition 'cause it is exactly that .
IMG: How did the tour in America go?
TIC: Clutch invited us in the Fall to open for them in Europe, because Vance produced their LP. The Clutch guys loved our record, so we were kindly invited by them. Then on the 3rd date in Gothenburg, Jean Paul -Clutch's drummer- came to us and said " we love your tone guys. We'd like to invite you for our US tour in Feb." We were really surprised and impressed by that! First of all Jean Paul is an amazing drummer and Clutch is something else, you know, amazing. That was a bit complicated, because at that time in February and beginning of March we have a lot of work at the farm (raising baby geese). So, we discussed with the neighborhood and wife, and everyone was really supportive and said they would take care of the farm so that we could go.
We went there only the 2 of us, driving our car, no crew. The Clutch guys and crew were so kind with us. It was our best tour ever in 10 years, because we visited all the Midwest during winter and the landscapes were so beautiful. We were listening to "Bluesville" radio everyday and every hour. For us, the US is that. You have a beautiful country. Where we stayed, we were able to actually see the horizon. We loved seeing that! It was a dream to see it and the snow :) !
The reaction of the audience was really good. Amazing sometimes. Guess Midwest people haven't seen a lot of French rock bands visiting them Haha! All shows we did in Kansas, Montana, Wyoming, Nebraska, Missouri, Tennessee were really successful. Clutch are really open minded guys to bring as support band doing a different kind of rock like ours. And it worked. Big Business was with us, too. Another fantastic band, and fantastic guys too.
People were really surprised during the first songs. But, at the end we always grabbed them! We play with real heart, soul and sound. We have played in really hostile conditions in the world that you cannot imagine. For us it was just another "challenge" to play for a new audience. Vance's wife bet with us that we could not make Nashville's crowd sing. After 2 songs, they were singing so we won 2 beers haha!
After we went to Lollapalooza, Chili, Brazil, Costa Rica and panama we came back to the farm. We received a call from EELS management to open for them 3 weeks later. We said Let's Go! So, we did it again. It was amazing too and really nice crowd. With Clutch we were the jazz guys, but with Eels we were the rock guys :) ! Mark E has the same cynical sense of humor we have too, so it was a really good time.
We ended in Atlanta at Shaky Knees festival, which was perfect.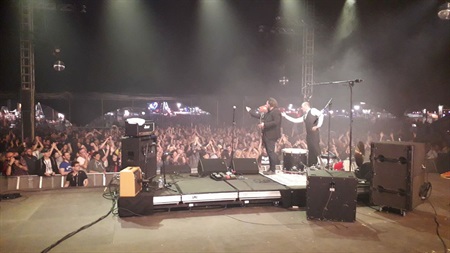 IMG: That sounds amazing. I'm from the Netherlands and a musician too. And know exactly that feeling of coming to America and hearing, playing and living THAT music from which "soil" it was created :) . And as you described: the (beautiful) thing in life is, we don't know exactly what's to come next. One moment you're with Clutch, then you're back in the US with EELS. Talking about the future : Any plans on going back to the US in the near future?
TIC: Oh yeah, we have now a good agent and Clutch and EELS tours has opened doors. We're working on a Fall US tour and also in Spring 2020. You will see us often now!
IMG: Well, great ! That leads perfectly into my next question: What are your thoughts on the Farm Aid concerts and founders Willie Nelson, John Mellencamp and Neil Young? Do you agree with me that you should play that show?
TIC: We'd love to! Neil Young is or favorite singer of all time. We would also love, as French farmers, to help our US colleagues by playing a show for them. It is a fantastic idea, and that we could and should do over here in France as well.
IMG: And what better way to spread the good word than through music! And with your exposure you're opening so many peoples eyes by raising awareness through using the tool of your music. What would you advise beginning musicians, bands or anyone with the same passion for agriculture?
TIC: Really? Well, we don't consider ourselves as preachers. Everyone does what he wants, and does what he can. We act like this: farming and feeding ourselves being self financed, just because we believe in this system...that does not mean we're right, it just fits perfectly to our obsession of freedom. The only thing we 'd say to any musician or farmer is: Make your dreams come true..
IMG: A question I've been wanting to ask you since I saw your first footage online: On your shows you guys kick and trash your drum kits at the end of the shows, haha! Pretty cool as then you may have a different sounding kit every show. Do you travel with drum kits or do you buy them in the cities where you play? How does it work?
TIC: Ahahahaha....well, in fact we fix lots of things before each show. For example sometimes 30 minutes before the show. If you come backstage, you can see us fixing and repairing the drums ahahahah !...we never broke the kick drum..the only things broken were snare, cymbals and stands. Of those we had to buy a lot. But, Jean Paul provided us with a lot of shitty ones to destroy. It's funny because all our shows end like this since the beginning ..it is like a ritual..and what is cool is that you do not have an "encore" to do ahahaha!
IMG: Hahahaha! Right! What do you do with the "trashed" stuff after the gigs, Do you keep them or give them away?
TIC: We don't give them away, we always fix them and repair them. We're farmers we love fixing things :)!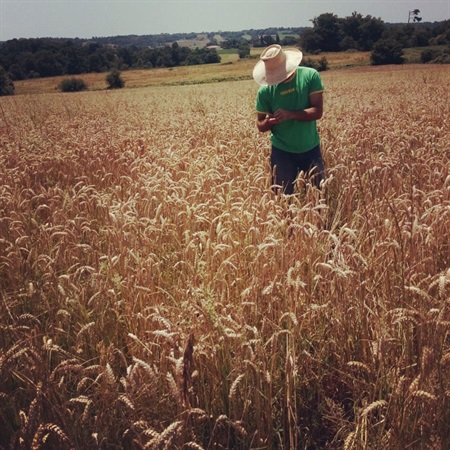 IMG: Haha! Yes, farmers are very efficient. Another great thing about having a farmers mind. On the 2nd song on your new album, Sand Preacher, you display what I believe to be the best voice I have heard in years. What is both of your favorite song on the album and why?
TIC: Merci! …Well, we love them all but A MAN OUTSTANDING IN HIS FIELD is exactly what we're trying to do. And Little Girl & the Whistling Train is the most personal song because it is talking about all young people leaving the countryside to go to big cities, the rural exode.
IMG: Yeah, interesting subject. I see it first hand happening in first world and third world countries. Whether it's for youths prosperity or people that are war victims driven to the main cities. The video for A Man Outstanding In His Field is simple and hilarious. And the track is fantastically and dynamically produced. Spanky, hard panned wet Guitars, Funky and Rockin' drum beats, intense and chorus vocals with a hint of humor over the verses. I love that track.
For a duo you guys bring enough energy for the thousands and even then you tire them out hahaha! What do you guys eat and drink before shows!? And being farmers, what's your diet when you're touring?
TIC: You will be really surprised about that: We drink only water on tour, and are really healthy. We prepare ourselves like sport competitors and sleep as much as we can etc. One of the reasons of our wild energy on stage, and that we can last a month and a half driving the car alone, is because of that healthy lifestyle. When we're working at the farm, it is like doing sports.. corn bags are around 25kg-35 kg each, and we have to carry them everyday. We train. Also the soil..is giving us "force." It's like in the Star Wars movie: our force is the energy of the soil. At the farm we only eat the products we grow ourselves - organic vegetables or meats (chickens, ducks, geese fed by our own organic cereals) eggs etc. On tour, we try to eat as healthy as possible. We very often end up eating pasta though.
IMG: Do you feel that you are reaching the amount of people you want with your message and are you hearing back from people that you touch with the message in your music?
TIC: Well, we never had a career plan. We played more than 1000 gigs in 65 countries in 10 years in a DIY system. We would have never believed you if you had told us that in the beginning. We live in a small village of Gascony of only 350 people, playing US rock music, in France..so we have all the ingredients to be hated by all the Parisian intelligentsia :) ! It is not the case anymore, but we had to tour all over the world, before being successful in France.
IMG: What kind of music career would you like to have in the future?
TIC: We're a heart and soul band. We made a choice to stay independent, because we do want that music and the artistic aspect to stay in the center of our life, and no bullshit or marketing or stuff like this ..music first! We are gonna do an acoustic version of We The People Of The Soil first. Then we plan to tour a lot. US, Latin America, UK, and certainly we will come back to Japan. We have a new LP on the books for 2020 with Vance again also.
IMG: It's obvious you two don't want a bass player. Even your own record label is called F…thebassplayer Records hahaha! Brilliant. Is there speaking of to ever apply a bass player to your group in the future?
TIC: Well many of them, try to join our band :) some of them well known...interesting but ....NO! :)...Our big joke is to offer our F the bass player tee shirt to really famous bass players ...we did to FLEA when we played with Red Hot Chili Peppers in Switzerland, we did it to Lemmy too :) ! We love that !
IMG: Hahahaha ! Excellent. On your new album We The People of the Soil you have some additional instruments going on. Do you play them yourselves or you have friend musicians record them?
TIC: We play all guitars, acoustic or electric, all percussion, carillon, some of the keyboard parts but most of them were played by the amazing Charles Treadway, an old talented friend of ours. The strings were also played by local players, all amazing. We just brought the scores!
IMG: I loved talking to you guys. Where is a good place for our fans and readers to access your music?
TIC: www.theinspectorcluzo.com, you have everything, on our youtube.com/theinspectorcluzo channel also etc. It is also a channel with life style, documentary about the farm, not only music and our e shop: www.rockfarmers.fr,
IMG: Hey, you guys are so inspiring. I have really enjoyed researching you, your farm life and your music. And I'm so glad to have had this moment to speak with you both. I hope to see you play live soon. Laurent and Mathieu, The Inspector Cluzo, thank you so much for your time..
TIC: Well, we 're honored to have inspired you ! But we're not heroes..our heroes work in the fields and don't say anything :) ! adishats !
IMG: When I come see you guys play, because I obviously am, can I please have a piece of your trashed kit? :)
TIC: Well, you'll be able to get maybe a drum stick ;-))) as said we fix the rest of the kit ;-))
IMG: Haha! Ok, great, I'll just settle with a stick! :) Keep on doing what you do. The world needs it. Thank you again, gentlemen!
TIC: Thanks a lot! Sure, we'll keep on rocking stages here and there as well as farming in Gascony!.. :)
Header Photo credit: Vance Powell