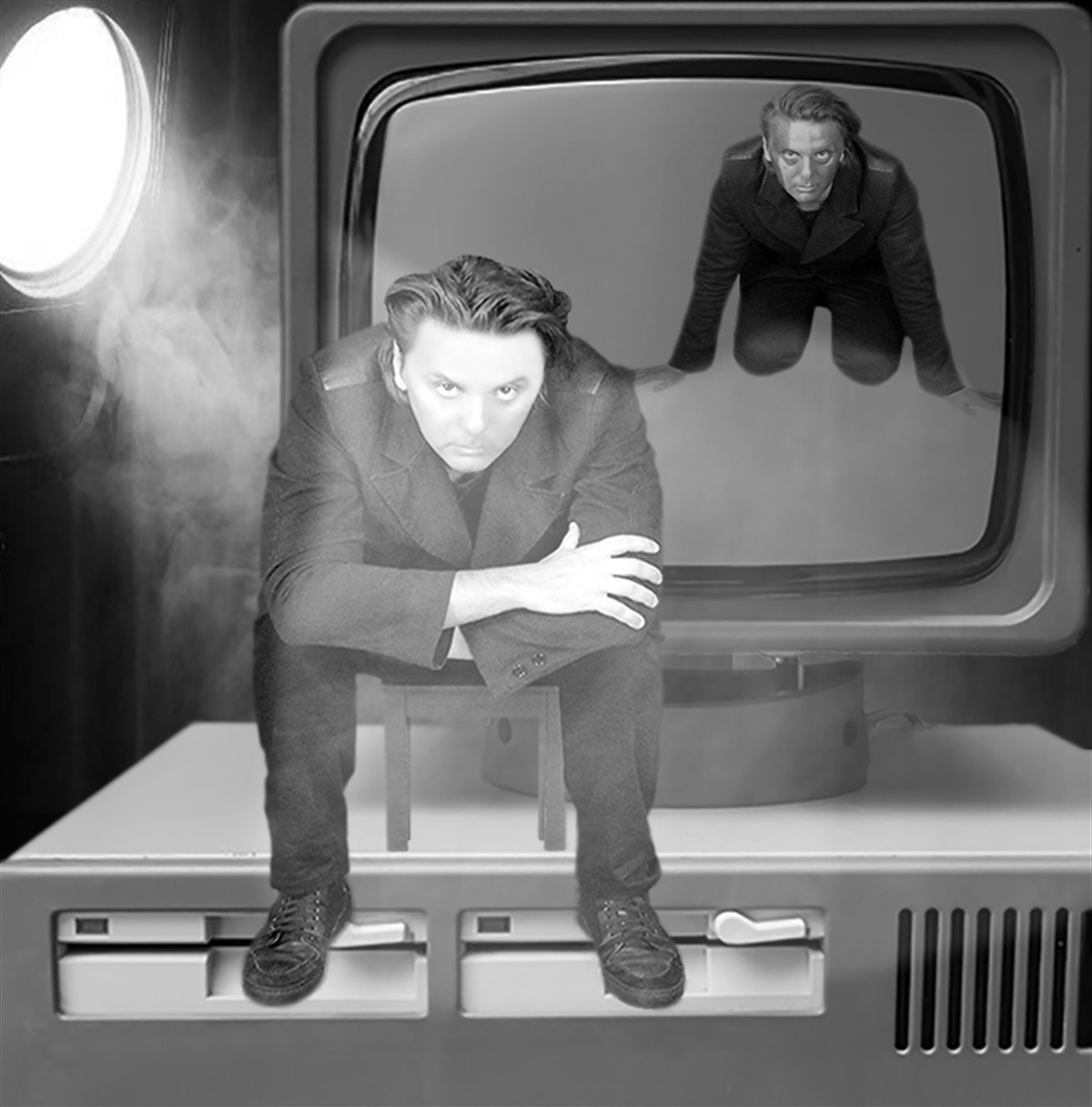 Super talented Multi-instrumentalist Indie Rock Solo Artist/Singer-Songwriter and Pinball Wizard Vittorio Tolomeo, the genius behind European artist Quarry, releases his new album "Super- Arcade" !
1. Welcome to you, Mr Tolomeo. Welcome to IMG ! How are you and how is your day going?
VT: Good! The album came out and is receiving great feedback. The title track "Super Arcade" was song of the day on Rolling Stone France…good start!
2.
That's fantastic news, congratulations! I've been glad to do research on you and able to listen to both your new and previous releases. Is it true that you recorded your new album "Super-Arcade" in a warehouse filled with old pinball machines? Was this in London?
VT: I had great tracks recorded during pre-production stage that were the backbone of the album. I was looking for an inspiring location to set my equipment and develop those tracks into songs. A friend of mine told me that his uncle had a fantastic warehouse in London. I asked why it was 'fantastic', and he said to come and see. I did. It was fantastic! His uncle was trading in arcade games and pinball machines in the old days. Then he became a collector. He had all these beautiful old machines in this warehouse. What a better place to make a record and also become a pinball wizard? Let's say that it was an unorthodox setup. It was a 'one room studio'. I had studio gear and instruments in the same room.
I find it interesting working like that. Everything seems to be faster and more spontaneous. You might not get the same feeling working in a traditional recording studio. Brian Eno said that limiting yourself forces you to get creative, and small budget, really make for good records… It works well for me! Plus, I got special permission to play some pinball machines and to sleep on a beautiful vintage leather couch. What more can you ask for?
3. That's a great scenario. I'm completely jealous. Haha! I love that you are a multi-instrumentalist. As one myself I don't have just one structural method of recording instruments. Would you care to share some of your practices, approaches or ways and tricks?
VT: I guess that the only method I have is to keep everything mic'd up all the time. When I have an idea, I tend to jump around the instruments. It's good to be able to record them right away. I try to get the most out of the first recordings. You never know. To me, writing and recording is a simultaneous process. I tend to record every sonic and lyrical idea the best way possible. As a matter of fact, many takes, first takes, recorded during the pre-production stage, ended up on the album.
I'm happy to share the story of how the song "Super Arcade" came to life. It was the last song I recorded… I got this kind of Jack Bruce distorted bass tone. I knew it would have taken me somewhere but I had to leave the warehouse in a couple of days. I played the bass on superb drum tracks recorded years before by a friend of mine for a never-released song. A great guy and drummer who died too young in a car accident while touring Europe. Those drums were magic and were fitting perfectly with everything I was playing. I kept those drums in the final mix. There's a musician living through his music. I finished the song in two days adding guitars, tambourine and writing the lyrics on the microphone.
4. That's very special. Composing to your dead friend's drum tracks. I don't think I've ever heard of that before. What is your personal favorite song on the album and why?
VT: "Man With The Scars". It's very different from the other songs on the album. It came out from an off-the-cuff strings session. We were recording the strings for another track, "Sweet Alien On Creamy Skis". I asked the brilliant violinist, Eleonora Matsuno, to play something on a chord progression and a melody that I had recorded previously. She played beautiful parts. I pitched and moved the tracks, then mixed them with some guitars' feedback to create wide sonic layers. The panned bass guitars and the great drums played by Sergio Napolitano did the rest.
I wrote the lyrics thinking of David Jones, the man. Not David Bowie, the icon. When he died, I started to think about great artists who passed away and left their marks on our lives. We say it all the time. It's true. We have so many David Bowie's gems to appreciate his soul forever. The use of the internet changed our temporal dimension. We have a different dimension of time towards dead artists. Besides, dead musicians are touring again, as holograms. That's tricky. I thought, what about the man and his everyday life with his family? Talking, laughing, kissing, fighting. They miss the physical presence. We all miss the physical presence of our beloved ones. We worship the souls but we miss the touch. To me, this piece of work is an indefinable stream of powerful emotions and sounds.
5. I'm glad you mention David as a person. Not just as an Icon, or as I quote you: "he is not just a face to show on a tee-shirt." This looking past the icon brings a whole different, more beautiful depth to a person. Lets geek out here for one: The awesome dual Guitar riff on "Fire Fighter" can't be loud enough for me. What guitars and set-up did you use to get that sound?
VT: I had a stereo guitar setup. I used a Guild S-200 T Bird. The signal was split to my pedalboard and an old analog Ibanez multi-effects. The amps were a vintage Vox AC30 and a modern combo, the Fender Bassbreaker.
6. What's your favorite instrument to record? Do you have one?
VT: Guitars. Recording vocals is great but most of the time is suffering (laughs) Though recording bass has been fun in this album.
7. So, you've been compared to Bowie, The Beatles, Arctic Monkeys and more but, would you agree with that or are there others that you are hearing?
VT: Ok, compared is such a big word! I think this album is a bit out of time. I'm proud of this. It's a guitar-oriented album. There are no samples. There are real musicians playing real instruments. There are many treatments as well, which doesn't mean using the same plugins to get the same sounds we hear in "contemporary" productions. Reading the reviews, I noticed that the album remind of most disparate artists. From ELO to Iggy Pop! Some of them, I have never listened to. Some of them, I don't like at all. But it's fine. What I am getting at is that these songs sound like Quarry.
8. Who were your big inspiration when you first started and what instrument did you fall in love with first?
VT: When I was in my teens, I wanted to play an instrument and form a band…but I was so shy. When I found out about Patti Smith, my world changed. She was brave, outrageous. She was a great songwriter, poet and performer. She meant everything to me as an artist. Still does. The drums were the first instrument I fell in love with first. I played some drums on this record as well.
9. And, who or what are your inspirations these days?
VT: I love Beck's approach to songwriting and producing. My inspiration comes through hard work. I need to be ready to receive it. I pull inspiration from everything. The only way to bring to light the jumble of emotions is playing and playing…writing and writing…and waiting for it! I don't remember having ever been inspired to write a song sitting down in front of my laptop.
10. Yeah, I can see where you're coming from. Straight off the bat on your album you come out with the Title Track "Super Arcade". Which, I think was a great idea. It sets the scene of the album well. What inspired you to write this song?
VT: The joy for being in this special place to record my album, the freedom felt making it, the way I was detaching myself from things I don't like in this age.
11. Yeah, that's what I read in the song, too. In the video clip of "Super-Arcade" you sit in a cozy book filled room with round cornered shelfs. Did you shoot that on a boat? I would only guess that by the previous shot where you are in front of a round port hole looking window.
VT: No, that's the porthole of the bathroom (laughs). We filmed in the illustrator's house, Francesco Quadri. He made the marvellous drawings for this stop-motion videoclip. The director, Vincenzo Campisi, imagined two worlds. I am based in an ideal environment in the underground world, a beautiful shelter, my 'Super Arcade'. You can see the porthole when I come down from the messed-up world above, during my transition from cartoon to human! I'm very happy with this video. We are working on a second videoclip for the second single, "Everything And Its Opposite".
12. Great! I can't wait to hear and see that one, too! I can't help but connect to your lyrics between that Digital and the Real world that most of us, self-inflicted or not, suffer from today. How do you walk that rope yourself to stay earthed and human, and is there a particular thing you do to disconnect from the worlds chasing demands?
VT: Writing songs is a great way to develop the ability to see things from different angles. You can stop the time and detach yourself from the daily perspective. Digital monopolies and their algorithms influence very much culture, ideas, art. Our lives are vulnerable to the rise of these few algorithmic giants and digital Gods. We surrender our personal data to them. The internet became a complete substitute of life for many people. We are going too far. The counterculture spiritual impulse of the internet's creators has been devastated by human avidity and foolishness. I wrote some songs about the border between virtual and real, and the excesses of the world wide web. I tried to do it in a surreal and ironical way, particularly on "Everything And Its Opposite". It's a song featuring very important figures in history that do weird things. Every verse is a paradox. I thought about these characters in a satirical way, emphasizing them, thinking of them in ridiculous situations in the current times.
13. On the track "Sweet Alien On Creamy Skis" you promote that there still can be peace on the planet. Which I can agree with.
And as we have the Trump and the Brexit hype going on everywhere around the world, do global or national politics play a role in your writing process, and what do you personally do on your part to help keep peace on our planet?
VT: Nobody can witness this complicated age and not be affected by it. What strikes me most is immigration. I saw some migrants, those who have survived the terrible journey from Arica to Europe, dancing for joy after disembarking from a navy ship in a Sicilian harbor. I sing these lines on "Sweet Alien On Creamy Skis":
"Skinny dancers on a slippery hill. In the seaside ghetto castaways feel so ill"
.
I was blown away by their strength and zest for life. The only thing an artist can do is just spread the word about peace.
14. Nicely said. Yeah, artists have always been that reflection on their surroundings through history. Do you have dates booked for your tours in Europe and America?
VT: I'll be playing some Summer Festivals in Europe and America from October onward.
15. What's the best way for our audience to keep track of you and your shows?
VT: I'm working on a new website, quarrysound.com. Until then, please visit my Facebook page. https://www.facebook.com/quarryvtmusic
16. Okay, last question. I'll leave you alone after this. 2 minutes and 35 seconds in on your previously released track Migrant Soul you wear a beautiful black jacket. Where can I get one? And if I can't get it, can I have yours? I'll be in London later this year haha!!
VT: You can get mine! I'll give you a discount (laughs)
17. Vittorio. Thank you so much for your patience with me. It's been a pleasure getting to know you!
VT: My pleasure!