A Conversation with Hilary Scott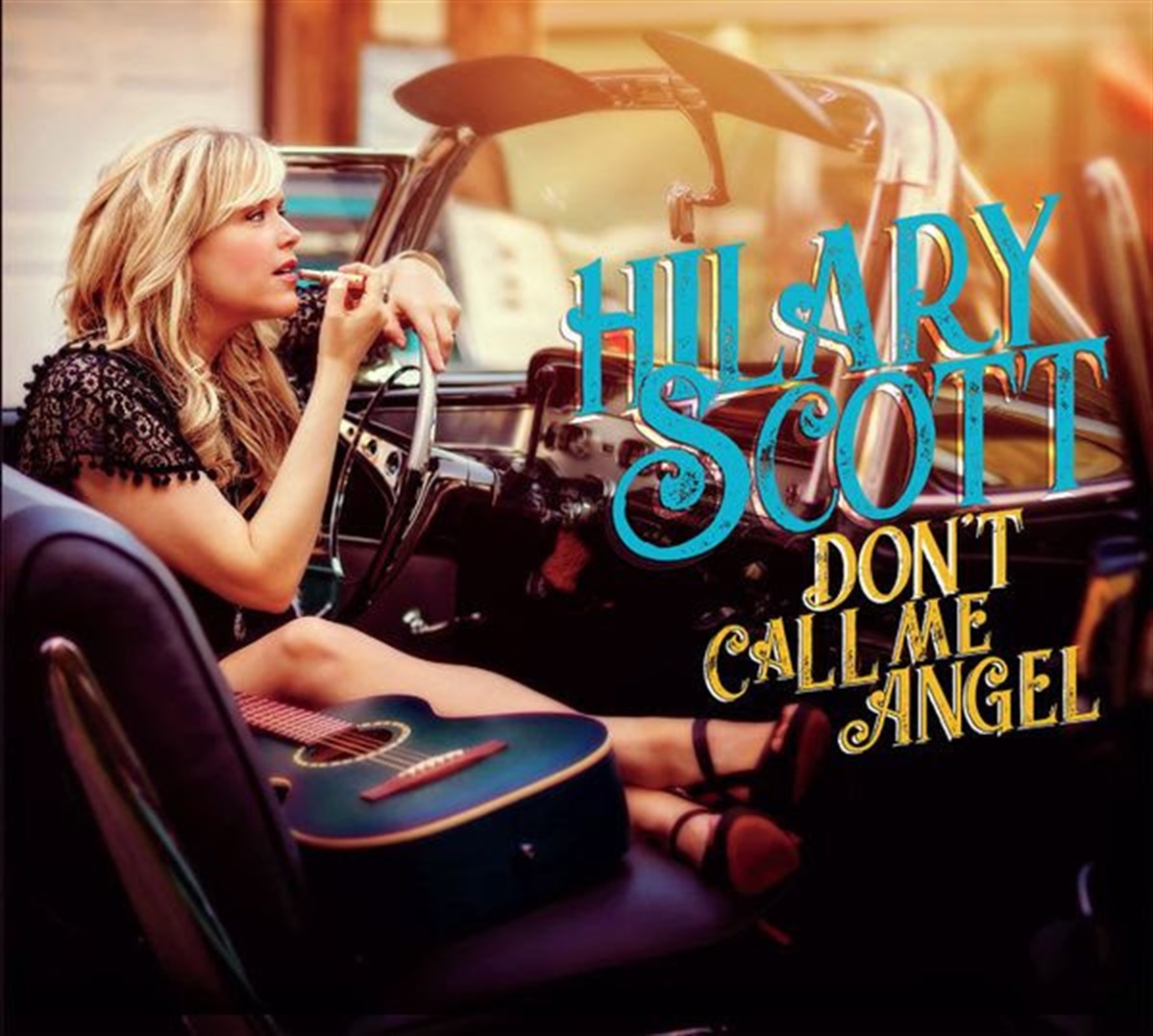 Blues-y Americana is one way to describe the new album from Hilary Scott. Her latest release, Don't Call Me Angel, Scott opens up her inner being in ways we haven't seen yet. Exploring her innermost feelings about love and acceptance resulted in a 10-track full length album covering her lingering feelings of mortality due to her brother's death at a young age, love and relationships, and living life to the fullest.
Hilary, with one "L", is not to be confused with Hillary Scott from Lady Antelellum. She came up with her monikor in 2010 with her brother, whose name was Scott, in mind. She says, "By the time I started hearing about Hillary Scott from Lady Antebellum, I had already had a couple of albums out under that name and had a website going." It was going to be difficult to change the name to reflect her brand, so she made the tough decision to keep it.
Don't Call Me Angel was co-produced by Grammy Award winner Johnny Lee Schell. The album contains a Prince single as a tribute to the late singer. We had a chance to ask Hilary about the inspirations behind each song. Read more and find out what she had to say.
-----------------------------------------
Don't Call Me Angel:
Perhaps because my brother died so young, or perhaps just because of my inherent sensitivity to questions of mortality, I wrote "Don't Call Me Angel" to examine my feelings about what we leave behind when we die. All of us are human and we make plenty of mistakes in our lifetime, and this is my love song to imperfection; may we all be remembered in our wholeness when we are gone; imperfections and all.
Not Used To Being Used To:
Being in a healthy relationship can be as difficult as being in an unhealthy one if you're not in the state of mind to receive it, embrace it, and keep it. Every now and again, even though I've been with him for nearly a decade, I stop and write my husband a love song for being so good to me. I definitely haven't always been used to being treated so well, and I hope I never take it for granted.
You Will Be Mine:
While thinking about the things that make me who I am, I realized I tend to shy away from speaking my mind publicly on certain matters because I hate to invite conflict, and because I then suffer the repercussions of being so sensitive to interpersonal strife. But when I wrote this song, I wanted to basically say: no more! I will say what I want, when I want. Somewhere along the line it morphed from a quasi-political song into a love song from the perspective of a person who knows they screw up constantly, but who feels secure and safely loved.
Make it Right:
I was commissioned to write over 20 songs for a crowdfunding campaign. I wrote this for a couple with whom I'm very good friends; I even became ordained so I could marry them. They traveled to the U.S. from the U.K. for the ceremony. Without giving away their personal story, I will say I also combined elements of my personal thoughts and feelings about that one person who can take anything you give them and make it better. I guess you might say I'm obsessed with the new (to me) sensation of being loved pretty much unconditionally by a romantic partner.
Heartless:
This song was one of the rarer times when rather than digging into autobiographical topics and experiences, I crafted a fictional but still completely personal song about heartbreak. I think it encompasses some of my very best song craft because of that approach. It also seems to resonate very well with listeners. If you do it right, carefully crafted and intellectualized art sounds organic, immediate and visceral.
UnLove Story:
This was great fun to write and was inspired by my husband gifting me my first ukulele. I enjoy the juxtaposition of cheerful music with sad lyrics. Ukulele is perfect for that result. I think nearly all of us have been in the place of longing and wondering when "their person" will come along.
Moon and Back:
My Mom is the first person to truly believe in my music. She also led by example to show me that women can do anything they want. Her list of accomplishments is long, and includes being one of the first women to graduate with honors in chemistry, making electrodes that went up on astronauts in the first moon mission, being mayor of the town in which I grew up, and getting her MBA and winning awards in business. As I started thinking about the phrase "I love you to the moon and back," and sparked by what my mom had done in the past, I began to write the song that ended up being a metaphor for a long term relationship. She inspired it but it's not about her. But we still say "I love you to the moon and back". Sometimes songs are like that: the initial inspiration and the eventual result don't have a linear connection.
In Time:
One of the songs I was commissioned to write was for someone who works with terminally ill children. This song is about how short life is, and how much we need to embrace the time we do have.
Kiss:
When I was asked to perform the live music portion of a Prince tribute show, I learned eight of his songs in a short period of time. "Kiss" has always been one of my favorites of his. I only choose covers to perform if I believe I can offer a unique perspective on them. Something about Kiss just screamed "bluesy heartbeat" to me and I also wanted to really draw attention to the lyrics. The response has been pretty amazing. I do tend to get attention for my covers, like my version of "Hallelujah". But I think the reason people often connect with my covers is that, as I mentioned before, I simply won't perform them if I don't think I can do them justice in some way. No one else can be Prince or Leonard Cohen; reinterpretation is a must for me.
Here I Am:
When I wrote this song I was in a phase of challenging myself to come up with more interesting and soulful piano lines. The musical choices I made really drove this song. Once I got the feel of the music, I was inspired to write these feel good (for me) lyrics.
Photography is Sarah Wolfe Photography
Layout Design is Discmakers
AWARDS:
Double nomination – Just Plain Folk Awards, 2018, Female Singer/Songwriter for "Untitled (So Long)" and "Labor Of Love" (winners TBA)
"Didn't Make It Alive" – Semi-finalist in the UK Songwriting competition 2015 Freight Train Love album awarded 2015 Vintage Folk Album of the Year from the Rural Roots Music Commission of the National Traditional Country Music Association
2014 Americana/Folk Album of the Year, Flowers on Mars, Rural Roots Music Commission of the National Traditional Country Music Association
Best Song win for "And Just", Festival Degli Autori international division, Sanremo, Italy, 2010
Best Local Musician 2005 and 2006, Inside Columbia Magazine, Columbia, Missouri
Follow:
https://www.hilaryscott.com/
https://www.facebook.com/hilaryscottmusic/